Welcome to St Bede's School History page
2019-2020 History Curriculum
Autumn 1

Autumn 2

Spring 1

Spring 2

Summer 1

Summer 2

Year 1

Grace Darling

Guy Fawkes

St David

The School's local area in the past

Year 2

X

Remembrance Day/ WW1 Centenary

The Great Fire of London

X

Travellers - comparing Neil Armstrong with Christopher Columbus

X

Our local area – Silloth in the past

The seaside in the past

Year 3

The Stone Age to The Iron Age

The Stone Age to The Iron Age

X

X

The Roman Empire

The Roman Empire

Year 4

The Anglo Saxons

The Anglo Saxons

Egyptians

Egyptians

X

X

Year 5

Local History - Carlisle Canal

Local History - Carlisle Canal

The Vikings

The Vikings

Year 6

Ancient Greece

Ancient Greece

Evacuees and Anne Frank

Evacuees and Anne Frank

X

X
*Year groups to be updated throughout the year as curriculum changes are introduced.
In Key Stage 2 British, European and World History has been organised in chronological order to develop chronological understanding.
Cross curricular writing in History
Dr Peter Collinge from Keele university came to tell Y5 all about the job of a historian. He showed us the rules of the Carlisle Workhouse as well as their diet. He also asked us to transcribe letters and vouchers from the 1700s. They were from people who needed help to buy food, clothing and housing. We had a great time learning about the past with Dr Pete and his two helpers Elaine and Joe.
Sue Templeton form Cumbria University came in this morning to teach Y5 about the workhouse in Carlisle. They used photographs, maps, census returns and a painting to explore Carlisle's past.
Year Six WWII visit to Tullie House - January 2019
Year Two visit to Carlisle Castle - June 2018
Year Two visited the Weeping Widow Poppy installation and The Cumbrian Museum of Military Life's Remembrance 100 exhibition.
Poppy visits Year Two - November 17
Poppy visited Year Two to tell her story about her brother Wilfred who fought in World War One. We learnt so much about the war - thank you for visiting us Poppy!
Remembrance Day November 10th 2017
Reception, Year One and Year Three watched a special Remembrance Day service prepared by Year Two at St Bede's Church. We read out prayers, sang hymns, listened to The Last Post and held a two minutes silence - it was a very moving service.
Remembrance Day - November 2016
and
Poppy's Visit
Battle of the Somme Centenary - July 2016
Jules Wooding from the Cumbrian Museum of Military Life gave a presentation to KS2 about The Battle of the Somme. Her talk focused on the many local men who served in the Border Regiment during World War One. She also discussed her own personal link to the Somme. An interesting and thought provoking afternoon - Thank you Jules.
Here are some photographs of the History work we have been doing...
Remembrance Day Service 2015
On Thursday 12th November Reception and Year One watched a special Remembrance Day service, prepared by Year Two, at St Bede's Church. During the service the children joined in with a 2 minutes silence, listened to The Last Post, read out prayers written by Year Two, sang hymns and visited the war memorial where our poppy wreaths were displayed for all to see.
Please look at the photos below of this lovely service.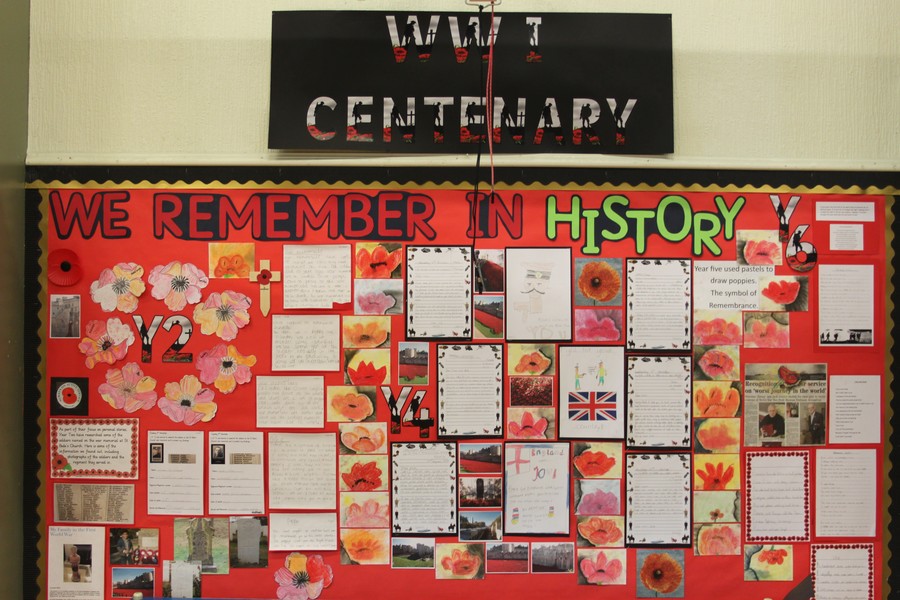 Red, White and Blue Day - 13th November 2014

The children dressed up in red, white and blue clothing on Thursday 13th November to raise money for various military charities. We ended the day by holding a concert in the hall for all of the children and parents. The concert began with an interesting talk by Jules Wooding from the Cumbria Museum of Military Life. The children were encouraged to answer questions posed by Jules and she was impressed with their level of enthusiasm. Children from years Two, Four and Six then performed a variety of songs and recited poetry from WW1. We finished the concert by asking all the children, staff and parents to join in with the well known song 'Pack Up Your Troubles' which was a lot of fun! Parents stayed after the performance to view work that the children had completed on the Centenary and to enjoy a cup of tea and a poppy biscuit. A fabulous afternoon was had by all!