Home Activities!
RE activities to do at home will be put onto this page, with a story for reflection and a prayer.
Take a look at the fabulous work the children have been doing at home!
Jesus and the Storm
This story is taken from the New Testament - The Gospel of Mark, Chapter 4. This is when Jesus has been teaching a huge crowd of people from a boat on the Sea of Galilee. Afterwards a storm appears and scares everyone on the boat.
There are two different versions of the story. The KS2 activity is to imagine you are Peter and to answer the interview questions after the storm. The EYFS / KS1 activity is to retell the story using the slideshow - either written or spoken. I will select a story and a task for each class on Seesaw but you can do as many as you like. It would also be lovely to see some artwork on this theme. There is also a prayer to ask Jesus for help when we are scared.
Congratulations to our Y3 children who made their First Holy Communion on the feast of Corpus Christi. They have enjoyed sharing memories of their special day with friends this week.
YEAR 2 PERFORMED THEIR PENTECOST DANCE TO TCHAIKOVSKY'S TEMPEST
Carlisle Catholic Schools Lenten Benediction 2019
A group came from Castlerigg to celebrate the Year of Mercy with our KS2 children. They spent the day exploring
What is Mercy?

How do we receive God's Mercy?

How do we show Mercy to others?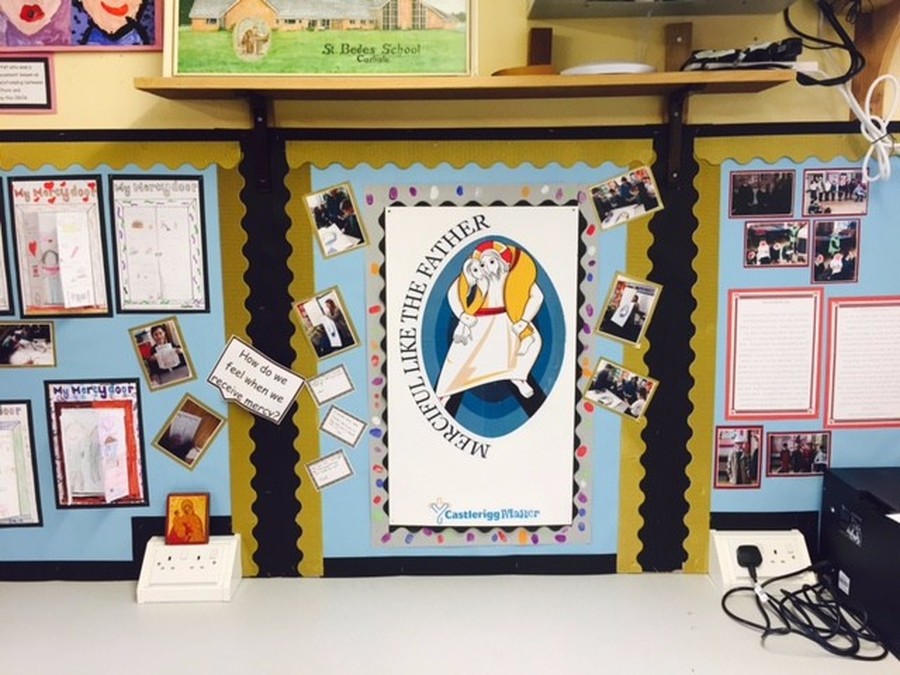 Year 2 - The feeding of the Five Thousand
Icon
We were privileged to receive the Diocesan Icon for Holy Week. The Icon was on display in the library along with other Icons borrowed from St. Bedes Church. During the time the Icon was here many children went to prayer before it during their break and at lunch time.