.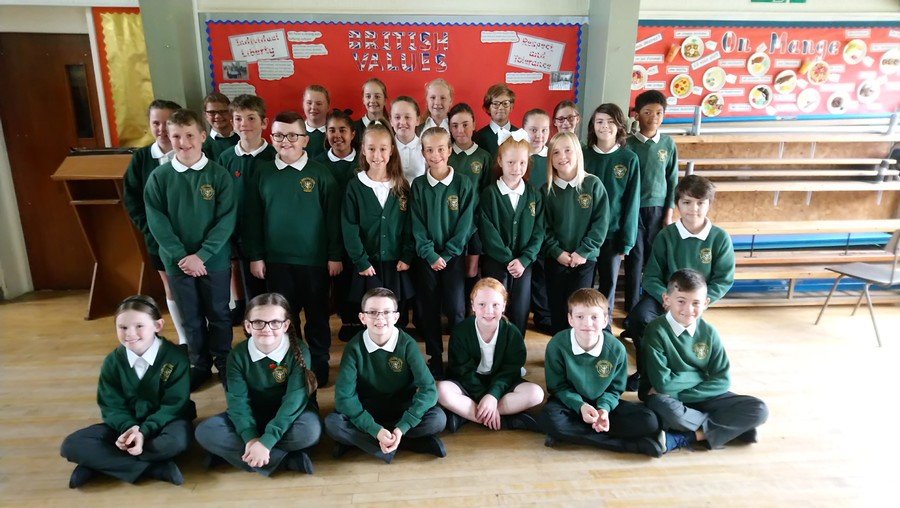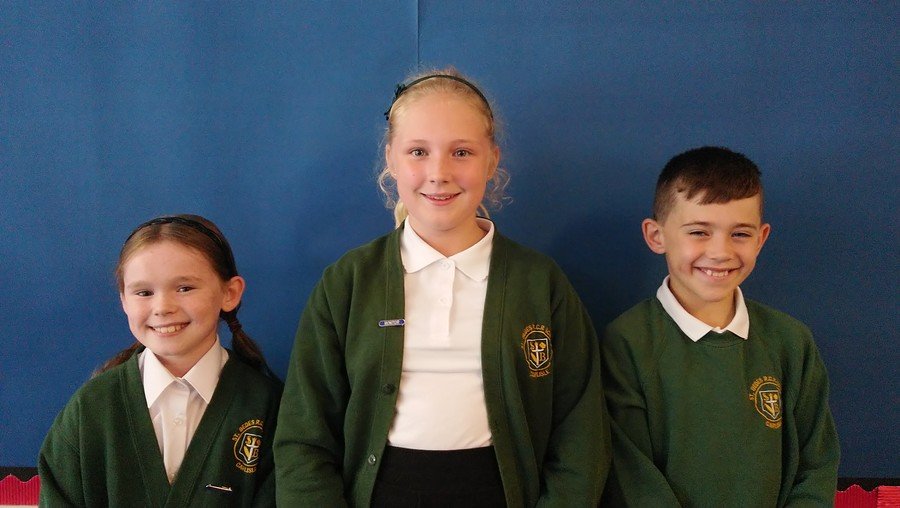 We enjoyed our morning at Tullie House learning about life in the Home Front in WW2 in Carlisle
We enjoyed an informative morning at Carlisle Military Museum learning about what it was like to be a soldier in WW2.
David Morton brought his guide dog Rebel into meet us as Year 6 sponsored a puppy called Spirit.
Year 6 organised the MacMillan Coffee Morning .. it raised ££1185.75 ..Wow !!
We attended a Heartstart Workshop ran by The British Heart Foundation.
Bright Sparks Electricity Day
Yoga and mindfullness .... and relax ...
We visited the Magistrates Court and learned about how a court works and did a role play of a cyber bullying case.
Year 6 Yearly Overview
Autumn

Spring

Summer

RE

Domestic Church-

Family: loving

Baptism/Confirmation

Belonging: vocation and commitment.

Advent/Christmas -

loving: expectations.

Local Church -

community:sources

Eucharist - relating:unity

Lent/Easter -

giving: death and new life

Pentecost- serving:witnesses

Reconciliation - interrelating :healing

Universal Church - world: common good.

Judaism - Yom Kippur

Science

Light

Evolution and Inheritance

Electricity

Bright Sparks Day

Properties and Changes of Materials

Animals

Life Cycles

Geography

Human and physical study of Greece

Climate zone and mountains. Types of settlement and land use. Europe countries and cities.

Europe - countries/cities

United Kingdom - cities bombs

Areas evacuated to.

Rivers

History

Ancient Greece

WW2

Evacuees in Cumbria

The Holocaust

Anne Frank

ICT

E- safety

X- curricular work – Research and producing Word Documents.

E- safety

X- curricular work – Research and producing Word Documents.

E- safety

X- curricular work – Research and producing Word Documents.

E- safety

X- curricular work – Research and producing Word Documents.

Art

Artist Study

Van Gogh

Mixing Paints

Poppy Collage

London Bomb Scenes

Picasso

Punchinello

William Morris

L.S.Lowry

D & T

Make soup to WW2 recipe

P.E.

Indoor Athletics

Attacking and defending

Running for fitness

Hockey

Running for fitness

Yoga

Gymnastics

Yoga

Netball

Kwik Cricket

Running for fitness

Tri Golf

Swimming

Rounders

P.S.H.E.

Democracy - How it started In Greece.

Democracy now.

Work of WWF and other charities.

The Holocaust

The United Nations - peacekeeping

Sex education
Welcome back after the Easter holidays. Year 6 have a very busy Summer term ahead of them - their last term at St Bede's !! SATS are in May - the 13th to 16th.
Monday 13th - SPAG
Tuesday 14th Reading comprehension
Wednesday 15th - Maths Paper 1 - Arithmetic
Maths Paper 2 - Reasoning
Thursday 16th - Maths Paper 3 - Reasoning
The children have been working hard all year towards these exams and should continue to do their Mathletics and online SPAG work at home. They are continuing to read for pleasure in class and at home and are sharing with each other the books that they have enjoyed.
We have the Carlisle United coach for PE lessons this half term and will start swimming lessons at RRMA on Wednesday 22nd May.
RE
The Work of The Apostles – The children will learn that they too are called to be disciples of Jesus. They will understand that the apostles were ordinary people and that just like them, they had strengths and weaknesses. However, on receiving the Holy Spirit they changed as can we. They will learn about the early Christian community and how the apostles preached and were persecuted.
Called to Serve- The children will be made aware of how Jesus set an example on how we should serve and that we should try and be like him. We all have gifts and talents that can be used to serve. We receive gifts from the Holy Spirit in Communion. They will reflect on how they can serve God and think about the sacraments of Marriage and Holy Orders.
Literacy
In the first half term the children will study Anne Frank's Diary. They will analyse each member of the family as the call up papers arrive. They will write a diary entry as Margot on the day the call up papers arrive – using complex sentences and adverb openers. Once in the annexe they will write a set of instructions on how to survive there. They will write a Haiku poem about one of the occupants of the annexe.
In the second half term they will study the text "Floodland" by Marcus Sedgwick. They will, through discussion and dram, write in role as various characters from the text.
They will re-write the story of Little Red Riding Hood from the point of the view of the wolf - using a story mountain to plan their stories.
The children will read regularly in school and bring their books home to read with parents and read independently. Research shows that children do better academically and emotionally if they read books and here at St Bedes we encourage this love of reading.
Numeracy
In spring term we will continue to revise the arithmetic needed to cover paper 1 of the SATs
Measurement- Use, read, write and convert between standard units, converting measurements of length, mass, volume and time from a smaller unit of measure to a larger unit. Covert between miles and kilometres.
Number: Algebra- Use simple formulae. Describe linear number sequences. Find pairs of numbers that satisfy an equation with two unknowns.
Number: Ratio- Solve problems involving the relative sizes of 2 quantities where missing values can be found by using integer multiplication and division facts.
The children should do weekly extension work on Mathletics and gain a minimum of 1000 points a week for a Bronze certificate.
Science
Animals including Humans -
Pupils should be taught to:
Describe the changes as humans develop to old age.
Pupils should draw a timeline to indicate stages in the growth and development of humans. They should learn about the changes experienced in puberty.
Pupils could work scientifically by researching the gestation periods of other animals and comparing them with humans; by finding out and recording the length and mass of a baby as it grows.
Geography
The children will use atlases to locate the countries involved in WW2 in Europe.
Rivers – The children will study the components of the water cycle. How rivers erode, transport and deposit materials to produce particular landscape features. They will study The River Eden from source to sea and visit the river in the local area looking at particular features. They will also study the characteristics of a river system in another part of the world – The River Nile.
They will take part in fieldwork organised by the Eden Rivers Trust.
History
In Europe they will learn about the Holocaust through a study of Anne Frank's Diary. A visitor will come in and talk about his visit to Auschwitz.
PE
The children will get a coach in the first half term from Carlisle United who will be teaching throwing/ catching and fielding skills relating to Kwik Cricket and rounders. The children will be running for fitness - building on the they made in autumn and spring term. After the SATS they will start weekly swimming lessons at RRMA on a Wednesday morning.
PSHE
We will study The Holocaust and its impact on European Jews. They will learn about the terms scapegoat and propaganda. They will also look at bullying and its impact on the bullied.
ICT
The children will copy and paste pictures from the internet onto a word document. They will learn how to use a search engine. They will learn how to use the internet safely.
Art
They will continue to work on their tiles in the style of William Morris. They will also work on Ballet Dancer pictures using chalks in the style of Degas.